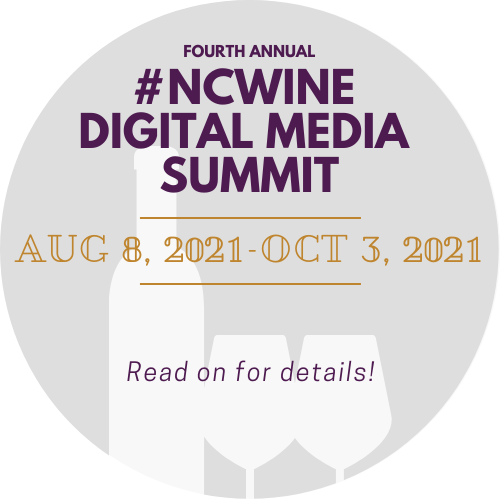 #NCWine Bloggers Summit is now the #NCWine Digital Media Summit!
We are pleased to announce that the #NCWine Bloggers Summit is now the #NCWine Digital Media Summit. This name change is due to the desire to be a more inclusive summit and include all aspects of digital media and those who contribute to our digital world. This include bloggers, social media influencers and of course, our friends in the wine industry.
In 2021, we will once again be a virtual summit with plans to return in person in 2022. In order to avoid, "Zoom fatigue" and to hold sessions at a time when most of our audience is likely available, sessions will take place on Sunday evenings beginning at 7pm EDT. Sessions will run approximately one hour in length. They will be recorded and made available for ticket holders regardless of whether you join the live session or not.
Tickets are currently on sale through Eventbrite. Click the Buy Ticket Now button to make your purchase. Sign up for an Eventbrite account for event specific information. Head to your Online Event Ticket Page after your purchase tickets for session details!
We are pleased to announce the sessions and schedule for this year's summit:
August
Kickoff – Sunday, August 8, 2021 at 7pm EDT – Join us as we kickoff the 2021 summit! This session will review what you can expect and discuss how digital influencers, media, bloggers, and the wine industry can better work together to promote North Carolina Wine, Mead, and Cider. Visit NC will lead a discussion on tourism after COVID and what we should look forward to. This will be a free session. Registration is required.
Social Media Analytics & Insights – Sunday, August 15, 2021 at 7pm EDT – We welcome Bob Aycock of Wine Carolinas back to the summit for the third year for a session on social media analytics and insights. Hear how to use this data to improve your social media engagement.
Virginia Wine from the Inside – Sunday, August 29, 2021 at 7pm EDT – Frank Morgan of the wine blog Drink What You Like, host of Virginia Wine Chat and East Coast Wine Chat, and wine columnist for The Virginian-Pilot newspaper and other Virginia publications will join us to provide insights on Virginia Wine in order to help us here in North Carolina.
---
September
5 Reasons Why You Need to Start Doing Live Video Now! – Sunday, September 12, 2021 at 7pm EDT – Kathy Hester, blogger, food photographer, and cookbook author.
In this session Kathy Hester shows you the ins and outs of creating strong audience connections using live video on social media platforms like Facebook and Instagram.
Are you shy or maybe just reluctant to try live video? You are in good company. Most people start out this way. You probably have some of the same fears and excuses that most people ople do. You'll learn tips and tricks that will get you over the hump and get you to go live.
Elevate Your Wine Writing For Digital Media – Sunday, September 19, 2021 at 7pm EDT – Dave Nershi, CSW is publisher of the Vino-Sphere wine blog and has previously worked as newspaper and magazine editor. Dave will provide tips on how to elevate your wine writing whether for your blog or to promote wine online.
Email Marketing and E-newsletters: Best Practices for Reaching Your Audiences – Sunday, September 26 at 7pm – Natalie Hampton of the blog Tarheel Taps & Corks and a former communications professional will give us tips on how to effectively reach your most important audiences from choosing an email marketing platform to choosing the content to driving readers back to your website.
---
October
Using Your Own Data to Make Content Decisions – Sunday, October 3, 2021 at 7pm EDT – Jenni Field of Pastry Chef Online will present information how to use data you already have to make better decisions on content for your blog or website.
For more details about our speakers, visit the 2021 #NCWine Digital Media Summit speaker information page.
If you are interested in join us as summit sponsor or have questions, please reach out to us.